Palais Garnier in Paris, France.
Thibaut Chapotot/Airbnb
Who wants to live like everybody else?
Airbnb is honoring "The Phantom of the Opera," Broadway's longest running show, by inviting two guests to spend the night in Paris' historic Palais Garnier, the venue that inspired the beloved novel and musical.
On April 16, "The Phantom of the Opera" will take its final bow in New York City after more than 35 years in production. Leading to the date, it will be performed in 15 countries.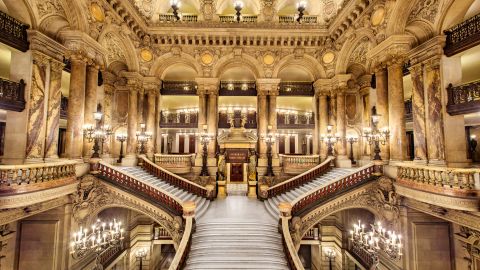 The Grand Escalier at Palais Garnier in Paris, France.
Thibaut Chapotot/Airbnb
In celebration of its magnificent run, Airbnb is collaborating with the Opera National de Paris to transform one of the most exclusive chambers in the Palais Garnier opera house, the Box of Honour, into a bedroom. This prestigious box, once reserved for dignitaries, will be decorated in red and gilded gold with design elements inspired by the musical. Guests will have a bird's eye view of the auditorium and stage from the bedroom.
"Phans will be able to follow in the footsteps of le Fantôme and book a night in the mythical underworld where it all began – the historic Palais Garnier Opera in Paris," Airbnb said in its news release. "Guests will also get to 'haunt' the halls of the iconic building, including a visit to the real underground lake, home of the Phantom, featured in the famous novel."
The Airbnb bedroom in the Box of Honour at Palais Garnier.
Thibaut Chapotot/Airbnb
A full night of entertainment is on the playbill. A private ballet will be performed by the Opera de Paris Ballet dancers. There will also be an exclusive recital performed by the artists of the Paris Opera Academy, accompanied by champagne and hors d'oeuvres. Dinner will be served in the Foyer de la Danse, a historic rehearsal room used by dancers for warming up before a show.
Gaston Leroux, author of "Le Fantôme de l'Opéra," the novel on which the musical is based, used Palais Garnier as the setting for the plot. French Emperor Napoleon III commissioned the famed opera house in Paris during the Second Empire.
Gaston Leroux's novel that started it all.
Thibaut Chapotot/Airbnb
The novel was inspired by events that occurred at the venue in the 19th and early 20th centuries, and was first published as a serial in the daily newspaper Le Gaulois in the early 1900's. The novel eventually inspired Andrew Lloyd Weber's musical, "The Phantom of the Opera."
"My great-grandfather's classic story has inspired so many people through the years," said Véronique Leroux, great-granddaughter of the French novelist. "This is the perfect time to honor him and welcome 'phans' to the famous setting of his much-loved novel for a once-in-a-lifetime stay."
On March 1, Airbnb will accept a single online booking for Palais Garnier starting at 12 p.m. ET / 9 a.m. PT. The one-night stay will be on July 16, 2023, and only cost 37 euros (the number of the opera box.)